UAC Students Eat at Chef Kim-Korean Food Buffet Instead of the IGC Cafeteria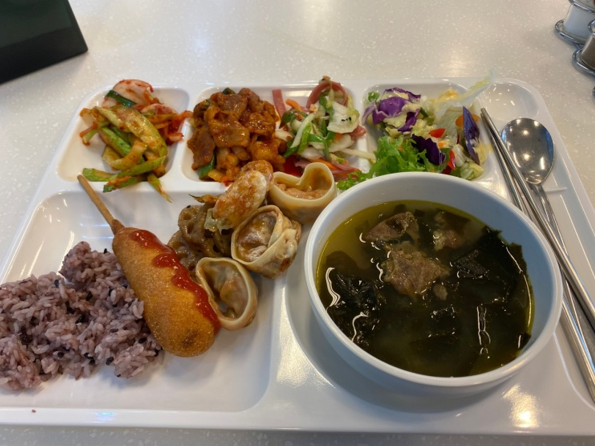 Nowadays, instead of the IGC cafeteria, it is known that a lot of UAC students go to Kim Chef, a Korean food buffet, located on the 3rd floor in Songdo Techno Park IT Center.
UAC students are not satisfied with the IGC cafeteria due to the bad quality of food. On the other hand, Kim Chef provides unlimited good quality of Korean foods with only 6,000 won.
UAC students, who have been to Kim Chef, say that the quality of foods is better and the menu is more varied than the cafeteria on campus.
Dongsun Lee, a Psychology major, stated "Nowadays, I go to Kim Chef frequently rather than cafeteria on campus. Although a meal of cafeteria is cheaper, I go to Kim Chef when I want to eat my fill"
"As a student who doesn't have enough money, Kim Chef is attractive in that it provides good quality and quantity of Korean foods at a low price.
Ashely Shin, a Communication major, also said "Although Kim Chef is 1,500 won more expensive than IGC cafeteria, it is much more cost-effective because Kim Chef provides not only good Korean foods but also ramen and soda"
"Before I know this place, I used to eat at restaurants in Triple Street. I spent a lot of money on eating because the average price of a meal at restaurants in Triple Street is around 10,000 won. After a friend of mine introduced Kim Chef to me and took me there, I go there constantly.
Min Kim, a Psychology major, spoke "I got to know Kim Chef because it was right in front of a gym where I go to work out. A lot of employees of Songdo Techno Park IT Center were in the restaurant and having a meal, so I tried"
"The taste was so good, and I was very satisfied because not only Korean foods but also bread, ramen, and soda were provided. I felt this place is much better than the cafeteria of IGC in terms of both quality and quantity"
Generally, students were content with Kim Chef due to the quality and quantity of foods and cost-effectiveness. They commonly said that they barely go to the cafeteria, but go to this restaurant often.
I asked interviewees if there are any drawbacks about Kim Chef.
Ashely Shin, a Communication major, answered "It is 10 minutes away on foot from the campus, so it takes around 20 minutes to go there and to come back"
"20 minutes are not that long, but it is difficult to go if I have an hour of lunchtime between the classes, so I only go to Kim Chef when I have enough time. When I don't have enough time, I just eat at the cafeteria"
Min Kim, a Psychology major, also said "It takes quite a long time to go to Kim Chef by walk. I hope that it is located on the IGC campus"
He added "It would be comfortable if you have a car. There is a parking lot in the Songdo Techno Park IT Center building, and the parking fee is free for up to an hour. Sometimes, I go by my friend's car"
Dongsun Lee, a Psychology major, gave another opinion. He told "At lunchtime, there are a number of employees and students having a meal. Although there are partitions on each table, I'm worried about the spread of COVID-19"
"It would be better if you go at dinner time. There are not many people at dinner time"
Kim Chef operates lunch and dinner. Lunchtime is from 10:50 to 14:10. Dinner time is from 17:00 to 19:00. In addition, Kim Chef updates the lunch and dinner menu every day. You can check the daily menu through Kakao Talk if you add Kim Chef Channel.