Shared electric kickboard accidents surge, but regulations "relax"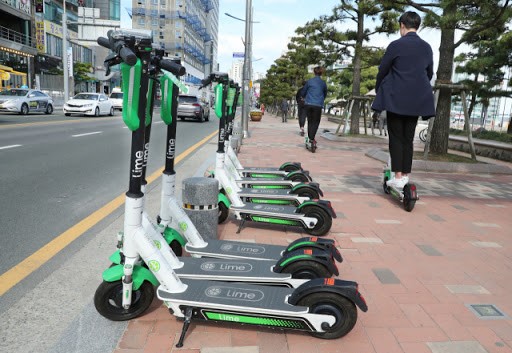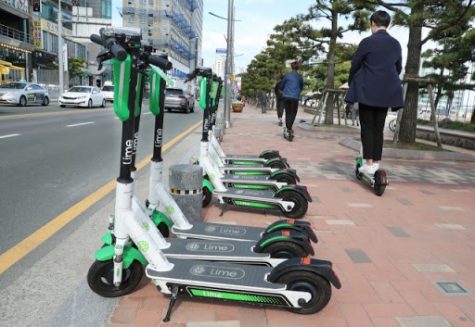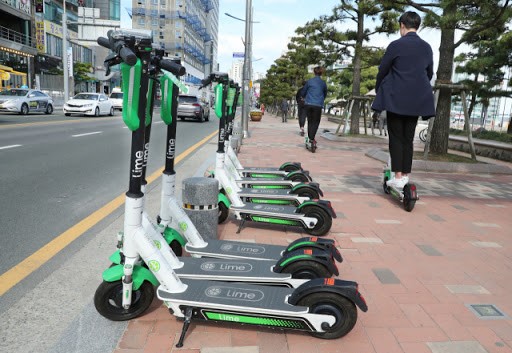 The number of electric kickboard accidents nationwide rose from 117 in 2017 to 225 in 2018, according to the Korea Highway Traffic Authority. The number reached 447 last year.
As such, the number of electric kickboard accidents incissureases every year, making them a threat to safety. On top of that, electric kickboards that are left unattended are causing inconvenience to pedestrians as well as drivers.
Meanwhile, the Road Traffic Act will be revised from December 10, allowing anyone aged 13 or older to use an electric kickboard without a driver's license. Only road driving was possible, but after the revision, bike riding will also be possible.
Currently, a fine is imposed on those caught without protective gear such as safety helmets, but this will also be eliminated.
Many citizens were worried that safety regulations were needed, saying that more accidents would occur.
Kim Jin-young (39), a resident of Dongbaek-dong, Giheung-gu, said, "I've seen an electric kickboard and a pedestrian on a narrow road hit and fell. When I see kickboards running, I'm often scared, too."
"I understand that there is no proper rule when the risk of accidents is so great. Shouldn't we revise related laws first and ease regulations? I think it's too hasty," he added.
Kim Eun-jin (29), who lives in Yongsan-gu, Seoul, said, "I often saw an adult man and woman riding together on an electric kickboard or a father riding a kickboard with his daughter inside."
"Adults do not follow safety rules even if they ride electric kickboards, and more accidents will occur if minors ride kickboards," she mentioned.
Driver Kwon Da-in (30), also said, "These days, cyclists wear helmets, but I've rarely seen electric kickboards with safety gear."
"Especially at night, there were several times when electric kickboards suddenly popped out of the road or stopped suddenly, almost causing accidents.," she claimed.
The Korea Highway Traffic Authority said, "It is urgent to overhaul the relevant system to strengthen the management and supervision of electric kickboard traffic laws and safe operation."
"It would be one way to minimize the risk of accidents by reducing the speed limit from 25 kilometers per hour to 20 kilometers per hour."
Park Moo-hyuk, a professor at the Korea Highway Traffic Safety Authority, said, "The revision of the Road Traffic Act focused on convenience rather than traffic safety."
He added, "More than recommended standards should be applied to allow electric kickboard vendors or lenders to recognize rules of use or methods of parking and stopping to users."
The Korean Federation of Teachers' Associations (KTU), issued a statement on the 9th and urged the government and the National Assembly to revise the law and prepare a system to guarantee students' safety.
They mentioned, "We are concerned that the law directly related to the lives and safety of students has been revised without collecting opinions from the education community and taking any measures."
An electric kickboard is one of the personal types of mobile devices, and it is equipped with a power-related device that can run on electric power. Currently, there are various type of the electric kickboard such as rhymes, G-cooter, sing-sing, and swings in Korea.