The 2022-23 Season of the South Korean Women's Volleyball League Began October 22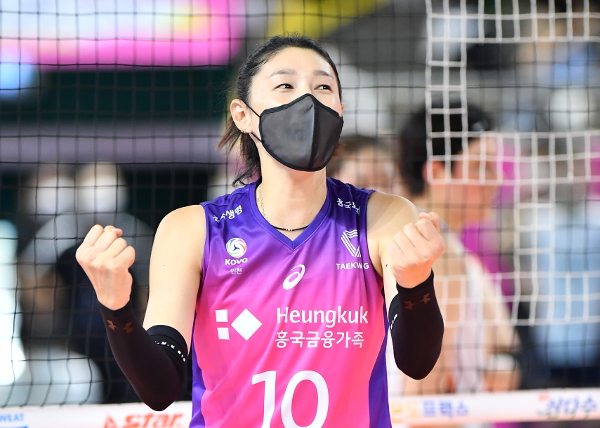 The 2022-23 Women's V-League (Korean professional volleyball) kicked off Oct. 22 at the Suwon Indoor Gymnasium in Gyeonggi-do.
   The opening match of the women's series was a showdown between Suwon Hyundai Engineering & Construction Hillstate, the No.1 placement in the league last season and Gimcheon Korea Expressway Hi-Pass, the No.2 placement. Hyundai Hillstate won all three sets.
   The match time of the women's opening game was at 2 p.m. and aired on KBS2TV. The game was originally scheduled to be held at 4 p.m. but was changed to broadcast for public television which can be viewed without paying a subscription fee, instead of on the sports channel, indicating the growing popularity of professional women's volleyball.
   The 2022-23 V-League has drawn even more attention with the comeback of 'Volleyball Empress,' Kim Yeon-koung. Kim, who left for the Chinese Super League after the 2020 Tokyo Olympic Games, returned as a member of the Incheon Heungkuk Life Pink Spiders this season. Her first official match was at 7 p.m. on Oct. 25 at the team's home court, Incheon Samsan World Gymnasium, and was against last season's new club, Gwangju Pepper Savings Bank AI PEPPERS. On the same day, Kim led the 3-0 shutout victory by scoring 18 points, the most points scored by one player for both teams.
   In the women's V-League, which consists of seven clubs, the regular season encompasses six rounds and a total of 126 games. The regular season of V-League will finish on March 19, 2023 and the postseason will begin on March 21, 2023. In the postseason, the winning team is determined through playoff games and a championship match.
   The rules that were piloted at the 2022 Suncheon-Dodram Cup Professional Volleyball Competition are being applied this season. For the digitization and internationalization of the league's operation, team tablets were officially introduced. Each team can request a substitution of players using the team tablet.
   Additionally, the position name and game notations were changed to reflect international notation standards. Position names were changed from Center (C) to Middle Blocker (MB), Left (L) to Outside Hitter (OH), and Right (R) to Opposite Spiker (OP). The Libero notation changed from the abbreviation 'Li' to 'L.' The Setter (S) notation did not change.
   Last season, the V-League suffered great disappointment as they were unable to finish the regular season due to the spread of COVID-19. As such, numerous volleyball fans are looking forward to the 2022-2023 V-League, which has new changes and more opportunities to watch matches in person.