Founder of The Songdo Giving Tree Discusses Intersectional Perspectives at University of Utah Asia Campus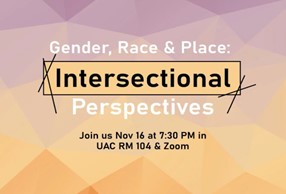 In Kim, Staff Writer
November 20, 2020
   At a UAC event on November 16, 2020, Annie Ham, the founder and director of the Songdo Giving Tree shared her intersectional perspective on gender, race, and place as one of the discussion panelists.
   First of all, Mrs. Ham shared her childhood experience in California, especially living in a predominantly white neighborhood. According to Mrs. Ham, "When I was five in Kindergarten, I noticed that my teacher treated me differently than other students and put me aside from the rest. I felt a little different."
   "Fast-forwarding to middle school, people in school would tell me to return to my own country. I was confused because the USA was my country. However, they would tell me to go back to China or Japan. As I moved to high school, I felt even more different by realizing that I was Korean through learning more of Korean culture such as karaoke," she indicated.
   "Next, fast-forwarding to college, I ran into my own Korean-American friends telling me to decide whether I was going to hang out with the Korean-Americans or with the Koreans. I didn't know the difference between the two and it didn't matter to me. I didn't understand why within our own race we kept dividing even more," she continued.
   In addition, Mrs. Ham noted how her parents reacted when they found out she was dating a Korean-Korean boyfriend. By this, Korean-Korean refers to a native Korean-born and raised person. She said, "I took him home and my parents told me that he was too Korean. Once again, I was confused because such a perspective existed within my family."
   After those times flew, Mrs. Ham has married a native Korean and is living a multicultural life with multicultural children. Furthermore, she explains about her experience moving to Korea in 2011. She noted, "It was very difficult because it was different from what I expected. I was very confident in living in Korea because everyone looked and loved like me."
   "But it was still different because the culture, upbringings, and roots were different. Now, I am not Korean enough for the Koreans and not foreign enough for the foreigners. However, I had a choice to be mad about this or use it as an advantage for education purposes."
   Although there were many hardships in adapting and communicating in a Korean culture, Mrs. Ham decided to embrace both cultures and educate people in helping them build a bridge across them both so that the respective cultures could earn benefits from each other. 
   As a result, the Songdo Giving Tree Organization was established to bring the volunteers of foreigners who wanted to help native Koreans. Mrs. Ham said that it's a blessing to see people of different cultures supporting one another.
   At last, according to Mrs. Ham, "We, as foreigners and Korean-Americans can use our advantages and talents to serve and support the Korean society in many ways such as teaching English and translating languages. I have had such experiences and I wouldn't have been able to experience them if I wasn't a Korean hyphen American. I am thankful for that."
   "For those people who are placed in between like me, you don't need to choose one or the other but instead be a bridge for both cultures," she concluded.
   Annie Ham is a Korean-American born and raised in the suburbs of California. She moved to Songdo, S. Korea 8 years ago with her husband and 2 kids. She quickly had to adapt to life in a foreign country as an "invisible" expatriate. She currently serves as a member of the Songdo Foreign Advisory Board and the IFEZ Community Consultative Committee. 
   In 2018, she received the IFEZ Bridge Award, an award given to individuals that help "bridge" the gap between Korean and foreign communities. She is also the Founder and Director of The Songdo Giving Tree, which is an organization that strives to give a hand to those that are less fortunate in the local community.