All lectures cancelled after hurricane-force wind wrecks havoc across northern Utah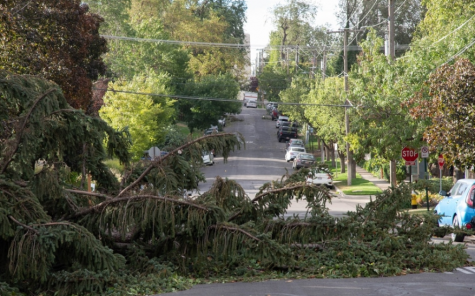 Hurricane-force winds wreaked havoc across northern Utah on Tuesday toppling hundreds of huge trees, closing schools, and knocking out the power for more than 170,000 homes and businesses according to Salt Lake Tribune.
Songdochronicle can confirm that due to severe weather and power outages across multiple parts of Salt Lake City, all classes were cancelled on Wednesday Sept. 8th at the University of Utah.
According to an internal communication sent from the Department of Public Safety to the university community: "University of Utah fall semester class schedules will resume tomorrow, Wednesday, Sept. 9. Staff and students coming to campus are encouraged to plan extra time for their commute and to be prepared for possible delays."
"University crews are working to clean up debris and encourage those on campus to avoid standing near or underneath trees. For updated information on the status of specific University of Utah Health facilities, please check the U Health intranet pulse.utah.edu."
Since February 2020, five major disruptions to normal academic programs, including cancelling classes on the Salt Lake Campus have occurred.
Monday February 24th, classes were cancelled for 24 hours
March 18th, classes were cancelled due to a 5.7 earthquake in Magna, Utah.
Late March and early April, classes were temporarily suspended to allow Faculty transition to online content delivery due to COVID-19 pandemic in the US.
May 31st, a week-long night-time curfew was imposed across SLC from 8pm to 6 am.