Songdo residents visit Utah Asia Campus for American football watch party
By Jessie Yun, Ye Eun Kim, Seung Ju Lee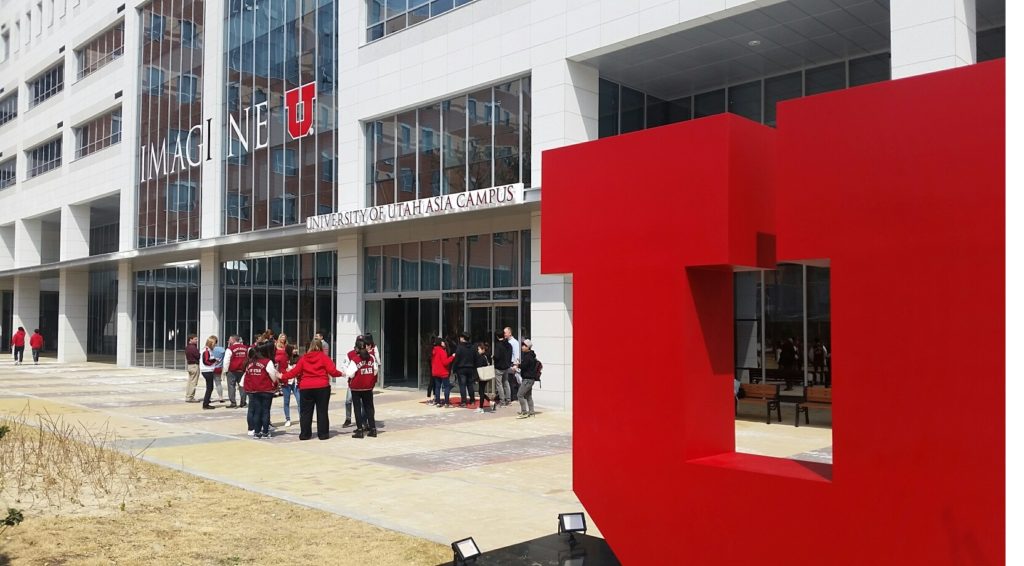 Citizens from Incheon watching the football match in UAC. Courtesy : University of Utah Asia Campus Official Facebook Page.On Saturday September 21st, the American Football match between University of Utah (U of U) and University of Southern California (USC) football team was live broadcasted at University of Utah Asia Campus in Songdo, Incheon.
Around 140 people including University of Utah students joined the event, some came along with their family members to enjoy. The event was organised by James Park, Assistant director of external relations and development. "If I choose one thing that represents America, I would definitely choose football," he said. "We are saying that Songdo is an international city, but how international are we? Since we are American University we can offer like American cultural event."
During half-time, Sungwoon Choi, a Communication major student performed magic tricks for the visitors on the event with the name "Magician W", according to the poster. "Everyone was busy," he said about the atmosphere. "Swoop were running around, kids were running around. I performed the magic trick outside while people were waiting for hotdogs on actual grill, to get them less bored."
According to Sungwoon Choi, he mentioned there were two screens available for both Korean and international students. "There were lots of screen in room 107 and 108," he said. "One was English commentary, other was Korean."
Overall, the event seemed to end successfully. "We had a lot of positive feedback from Koreans who attended the event," James Park said. "Not many universities offer events that involve locals and share experiences beyond education. Football was a new topic that gathered local residents and made them enjoy the event. After doing this people have positive image of our university."
This was not the first time the University of Utah Asia Campus had arranged event that was opened to the public. During the Summer there was a ballet class conducted by University of Utah Asia Campus to public that was very popular, according to James Park.
He also commented that if there is a chance, he would love to arrange more events like this in the future if he has a chance.