Networking opportunities at 17th World Korean Business Convention
By Jiyeon Shin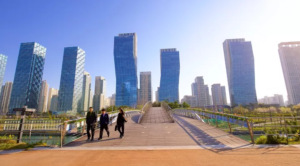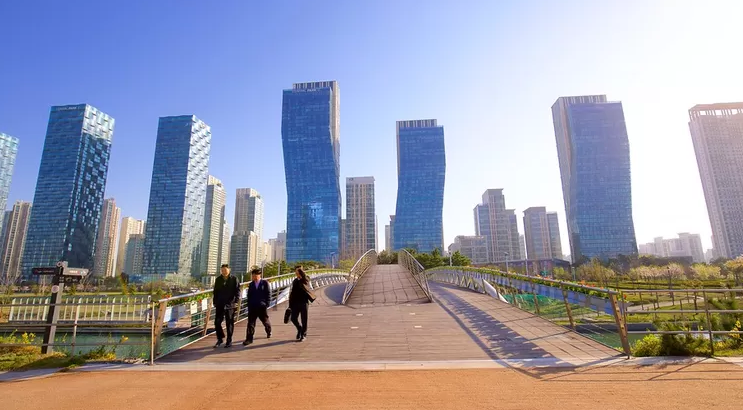 Songdo's Convensia- venue of the 17th World Korean Business Convention
On Tuesday, October 23, World Korean Business Convention (WKBC) commenced its 17th convention in Songdo convensia convention center in Incheon. Local and overseas Korean
entrepreneurs as well as their international partners gathered together to strengthen economic exchanges and global network.
The three-day event, co-organized with Maeil Business Newspaper (MBN), Overseas Koreans Foundation (OKF) and Incheon Metropolitan City (IMC) will run till October, Thursday the
25th.
The 17th edition of the event is scheduled to explore international relationships and strengthen business networks.
Kim Jung Jae, an entrepreneur of Korean American Chamber of Commerce in Greater New York states: "I come to WKBC every year. I think this year, they prepared more thoroughly, with
more people involved. Therefore, I am expecting more from the other business entrepreneurs to have a global network programs as well."
The large scale event, the biggest since inception is envisioned to attract over 4,000 participants. According to Mr. Kim, about 1,000 local firms from overseas are expected and around 3,000 ethnic Korean companies.
Park Jaedong, a leader of Incheon Evergreen volunteer center asserts, "I wish that the event will help the country development in the future. For this event to be successful, I will support my best
as a volunteer. My main task is to organize brochures and carry the desks needed for the one-to-one business meeting, and I am more than happy to help so. "
Just like Mr. Park, there were around 20 more volunteers at the convention who were keenly supporting the venue for its success. It seemed to be that their hard works are much appreciated,
as Mr. Park suggests that free lunch is provided with special seats particularly for the volunteers.
Under the theme of United Hansang, the convention comprises of a variety of programs: Business Networking Seminar, Korean Business Youth Internship, and Hansang Leadership
Conference, and one-to-one business meeting. They are also supporting for the young entrepreneurs to reach out for the international programs in the overseas.
Overall, their goal is to increase national competitiveness and business opportunities.
Kim Mi-Sook, who works at Incheon Medi-Flex General Hospital states: "I have visited several other fair, but WKBC is totally new to me. As we are working with International Academy & Placement (IAP Korea), I wanted to promote the programs and services that I planned to the young entrepreneurs who are seeking to work in the overseas. Compared to other fairs in Coex mall, I think this fair is pretty well organized."
As Ms. Kim says, there are a number of young entrepreneurs who were await to see various international opportunities. Moreover, unlike Coex mall that has an open entrance which is accessible to every visitors, WKBC is well organized with the distinct meeting rooms and entryways managed strictly by the volunteers and workers.
Only people who are associated with the event have cards that allow them to enter. At the event, there were individuals seeking opportunities for internship and job opportunities both locally and internationally.
Hyun Jun (25), an aspiring entrepreneur and graduate of public
administration noted that: "I graduated from Chungnam National University (CNU). I was studying to become a government officials, and now I want to find an opportunity to learn overseas and find programs that would allow me to work internationally. I'm so excited to be here."
Although Hyun Jun has no experience of working in abroad, he believes that the convention has one seat left for him. Like Hyun Jun, other young participants were interested in networking.
Kim Seo Young, another student from CNU noted that: "I think this convention will be a special chance for me to gain an internship opportunity. One of my friend got a chance to have an internship opportunity at the computer science company in Germany that is similar to Naver. Since my major is related to computer engineering, I wish I'd had that opportunity too."