Once in a Lifetime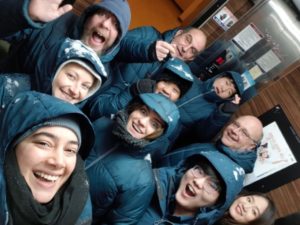 I hope that everybody enjoyed the PyeongChang Olympic Games all around the world. I can certainly say that this winter Olympic Games was very successful by watching the closing ceremony directly.
Being a part of Olympics is perhaps a once in a lifetime opportunity which I will never, never forget. Passion and spirit to gather people all around the world 'All in one' getting rid of every factors for discrimination, racism, war, and conflict!
I was so happy to have this experience to be part of Olympics. I learned what human resources was about. How does people work in this department to make everybody safe, well paid, well treated, and so on.
What I could have in my mind before the internship was just lengthy thoughts about how people work at a company. After experiencing this internship, I finally structuralized my thoughts and directly experienced myself by working on fields like checking payment sheets, delivering contracts, and calling to insurance companies.
To conclude, it was an honor to serve as a human resource intern of OBS team for past two months. I want to special thank Juan, who gave me the closing ceremony ticket; and my boss Victor, who is an energetic, happy, cute, and optimistic person.
Thank you so much for giving me this priceless opportunity Utah, OBS, BTP, Olympic, and PyeongChang!
Written by Sang-Yeup (Alex) An