UAC Professor Speaks on History of North, South Korean-American Relations at Association of Asian Studies Conference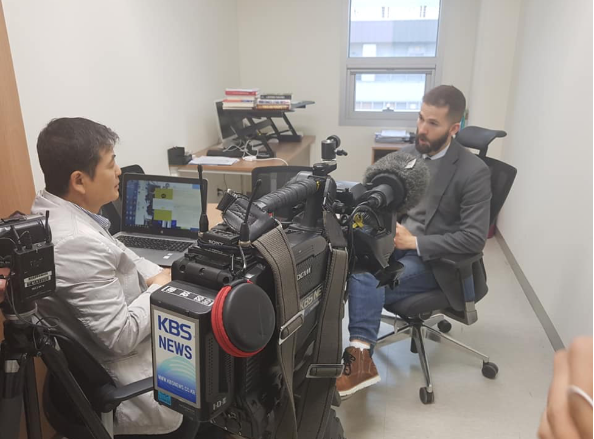 Hang on for a minute...we're trying to find some more stories you might like.
By Sunwhee Mike Park
Dr. Clint Work, professor of history and undergraduate studies at the University of Utah Asia Campus (UAC), spoke at the Association of Asian Studies (AAS) conference in Denver, Colorado this past March, where he was invited to be part of a panel of scholars.
Professor Work discussed parts of his doctoral dissertation on U.S.–South Korean relations in the 1970's under the Carter administration.
At the conference, Dr. Work spoke of President Carter's failed attempt to withdraw American troops from South Korea over 40 years ago, and how this proposal continues to have relevance today. He stated that, due to recent peace talks between the U.S., South Korea and North Korea, a similar course of action from current U.S. President Donald Trump could be considered a possibility though it seems unlikely.
Professor Work provided some historical context on the matter, explaining that the U.S. and South Korea's alliance during the Korean war, followed by the strategic importance of South Korea during the Cold War, were the original reasons for American military presence in South Korea. Even though South Korea is not currently an active warzone, withdrawing troops would stir up a myriad of complications, the professor stated.
The first of these complications is that, considering the long history of U.S. military presence in South Korea, a withdrawal of troops would negatively affect U.S. overseas credibility and control over the East Asian region. Another issue concerns North Korea's possession of nuclear weapons technology, and the unpredictable threat that this matter poses. The volatility of the situation makes it difficult for the United States to pass the matter solely upon South Korea to handle by itself.
Professor Work expressed his sentiments upon the matter, stating, "There is a fundamental unwillingness [from the United States military] to approach Pyongyang in any other way than as a threat… which makes it impossible for the South Korean government to alter its relationship with North Korea as well."
Therefore, with the United States deadlocked into military presence in South Korea, and recent peace talks between President Trump and Kim Jong Un retrogressing to where it stood in April of last year, the possibility of American troops being withdrawn from South Korea seems out of the question.
Nevertheless, he remains optimistic about the future in the hands of the younger generation of South Koreans. As the trauma of war and fear of invasion begins to fade from one generation to the next, Professor Work believes that the way in which South Koreans view North Korea on a cultural level will begin to change as well.
He believes that rather than continuing the unending fight for unification that has been going on for over 60 years, the new South Korean generation will see North Korea as simply a neighboring nation. This perception could eventually lead to an ease of tension between the Koreas nations, and possibly lead to the long sought-after peace between the two nations as well.
While the idea of withdrawing U.S. troops from South Korea seems unfeasible now, the continuation of communication and negotiations could lead to a positive future, according to Professor Work. "Sometimes the suboptimal is the optimal" he states, explaining that smaller and more orthodox steps could eventually lead to peace between the United States and the Koreas.