By Karrina Pancoast and Kenna Hansen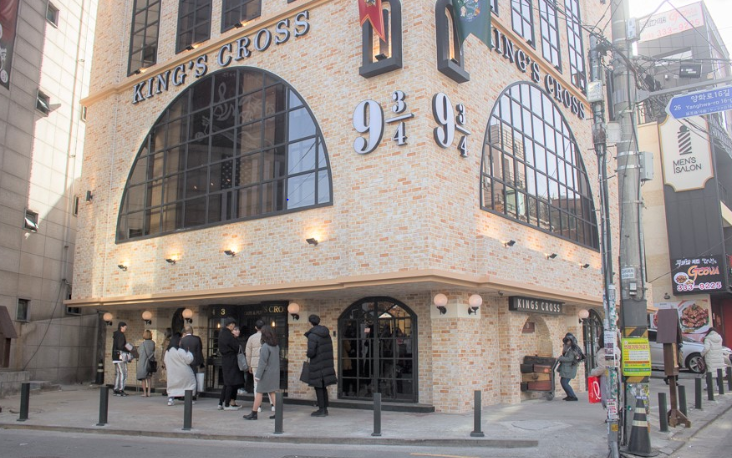 Hidden away off the main shopping road in Hongdae, Seoul South Korea is a café full of magic and pop culture nostalgia: 943 Kings Cross. The café stands as a four-story building in the design of King's Cross station – it's namesake and one of the most identifiable settings in the Harry Potter Universe.
The café, while being a popular spot to visit in the Hongdae district, has faced many different opinions about its attractions and the experiences it has provided for visitors. Despite high levels of patronage many customers have claimed to be unsure of the overall opinion of 943 Kings Cross.
When asked about their experience with and opinions on the café, patrons provided insight on what makes it special, as well as what can be a setback for the business."It's my first time at the café," stated Emilie, an English teacher in Seoul as well as an independent blogger, "it's bigger than what I thought it would be. The foods kind of pricey though and I wish they had more costumes and props to use for photos.".
943 Kings Cross' menu consist of Harry Potter themed drinks and food such as Wizard's Beer, Dragon leg, and replicas of the Happy Birthday cake given to Harry Potter in the franchises' first film. Despite the nod to authenticity, however, the lowest price that could be seen on the menu was 7,500 Won for a standard latte.
Casey, an international student studying business at Seoul National University, noted that the cafe's atmosphere left quite a good impression. "I really liked how much effort they put into the design of each of the floors." She stated, "I also really liked the music because it came from the movie soundtracks.".
Minyoung, a graduate student in the Visual Design Department at Hongik University described his experience with the café to be unique and fitting with the Harry Potter theme, but also mentioned the high prices to be a major setback to his overall opinion.
Each of the café's four floors is designed in reference to different locations in the films, and the souvenirs available replicate popular items and references throughout the films and books.
Despite being a popular tourist location, the café does not hold any official social media or online websites where information about 943 Kings Cross can be found. Individual travel bloggers, such as Creatrip and Must Share News serve as the primary sources for information such as location, price, and images from inside.
Harry Potter is a book series by author J.K. Rowling on a fictional story about a young wizard based in the United Kingdom. The first book was published in June of 1997 while the last book was released in July of 2007. Film adaptations were made for each of the seven books from 2001 until 2011.