UAC's End of Year Banquet Recognizes the Best of the 2018-19 School Year
By Mike Park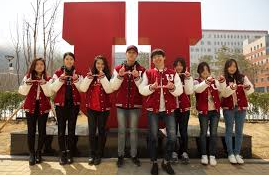 The University of Utah Asia Campus hosted its fifth annual End of Year Banquet on May 29th, with an awards ceremony recognizing various student leaders, faculty, student organizations and programs. The Banquet was an opportunity for the UAC to reflect on the 2018-19 school year, and celebrate those who contributed their time and passion for the development of the school and its community.
The Banquet kicked off with a word by UAC's Chief Administrative Officer Todd Kent, Ph.D, followed by departing Assistant Director of Student Leadership and Involvement, Cody Garrison. Cody expressed his bittersweet sentiments towards leaving the UAC, allowing for a short but moving moment for those in attendance.
The night of recognitions began with the school's student leaders, who played pivotal roles in helping other students either through direct involvement, or through fun and innovative event planning. The recognized groups included the Student Council, Resident Advisors, Orientation Leaders, UAC Ambassadors, International Buddies, Leadership Consultants, Peer Advisors, and the UAC Programming Council.
Also recognized were the departing faculty, who were met with resounding applause from the audience and were even gifted roses for their massive contributions to students' fabulous learning experiences at the UAC.
Finally, the highlight event of the Banquet arrived with the presentation of awards to those students and faculty who stood out during the past school year for their efforts and achievements.
Receiving the award for Faculty of the Year was Dr. Donald MacAngus, JD; for Student Organization of the Year was AP Psychology; for Program of the Year was Pride Week, planned by UAC's LGBT+ and allies club Q-Dong; for Student Leader of the Year was Leehye Kang, major in Psychology; and, finally, for Emerging Leader of the Year was Young Ho Son, major in Communications and Film & Media Arts.
The Banquet concluded with a buffet dinner at the IGC's (Incheon Global Campus) Multi-Complex Building, and a raffle in which students could win University of Utah merchandise.