The Little Mermaid Live-Action Movie Cast: The Birth of a 'Black Mermaid'
Jenny Kim, Journalist Team Leader
September 15, 2021
Halle Bailey, a member of the U.S. R&B duo Chloe X Halle, has been named the main character of the Disney live-action film 'The Little Mermaid.' According to Variety, a U.S. film media outlet, Halle Bailey will play the main character Ariel in 'The Little Mermaid.' Halle Bailey is an African American woman who is currently an actor and singer.
The film's director, Rob Marshall, reportedly said from the beginning that Halle Bailey was the right person for the movie after meeting with several candidates over the past few months before the decision. "Hallie Bailey has the right soul, emotion, youth, purity, and very beautiful voice to play a symbolic role (like Ariel)," Rob Marshall said, according to Variety.
Social networking services (SNS) all around the world are buzzing over the casting of Halle Bailey as the main character of Disney's live-action movie 'The Little Mermaid.' Many said that the image of Bailey, a black woman, does not suit the original animation image of Ariel, which was described as a red-haired white. Of course, there was a counterargument that Bailey would give off his charm. When Bailey tweeted about the casting, saying, "Dream come true," various casting reactions were followed on social media worldwide.
One overseas SNS user said, "No one is racist. But everyone knows that Little Mermaid is white with red hair. Bailey is gorgeous and has a beautiful voice, but she doesn't seem to fit the role of Ariel," she had also told Disney, "Please don't do what the media asks you to do, just go with the classic."
Some point out that casting the original Danish fairy tale's main character as a black actor is too much of a 'Political Correction' (a social movement that rejects prejudice).
Besides, some comments were saying, "Bailey is not that the mermaid in my childhood.", "It's very disappointing," "but Ariel is not a black woman, although I'm not a racist."
They also questioned why Disney cast a black actor for the role of Ariel, a white woman. There has been criticism that Disney animation characters cannot be free from racism. This is because most of the princesses, princes and main characters in Disney's representative work were white. The public and the media have been demanding that Disney remove the discriminatory elements, and Disney's selection of a black actor to the mermaid's role also affected this judgment. On social media, there was a response saying, "It must be a trend to cast Ginger characters (red hair and especially white skin) as a dark-skinned actor in Hollywood."
However, there are not only harsh criticisms about Bailey's casting. With Bailey, a black female singer, playing Ariel, expectations are growing that a new 'Little Mermaid' could emerge that has never been seen before. Although the original image is somewhat different from that of Ariel, some say they are looking forward to how Bailey's charm will be shown in the movie.
"Unlike male characters who have shown various faces in Disney and Pixar's animations over the past decade, female characters have shown faces that are indistinguishably similar, such as white skin, round cheeks, and big eyes," the American entertainment media Vox pointed out. "The Little Mermaid, the main character of a white girl with red hair, will be recreated as a black girl," Vox said. "It's a very exciting step."
Disney's live-action film 'The Little Mermaid' was confirmed to be released in theaters on May 26, 2023, in North America. Amid numerous controversies, 'The Little Mermaid' has finished filming and post-production work is underway.
The trend of casting people of color into characters that have been monopolized by white people is expected to continue to spread in the future.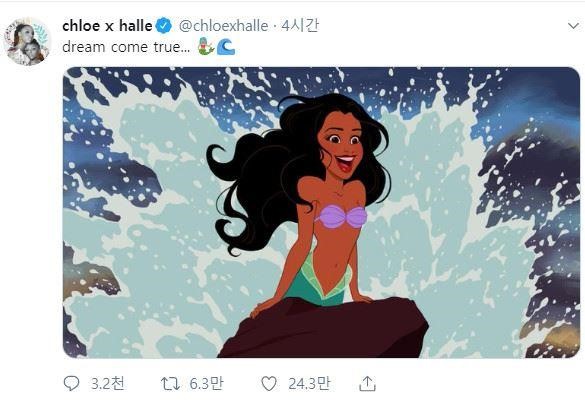 Halle Bailey uploaded her Twitter saying, "Dream come true." After her tweet, much feedback has come out worldwide. Image courtesy of Twitter capture.