IU Talks About IU
   IU is back with her fifth album, "Lilac". She recently appeared on tvN's "Yoo Quiz on the Block" and confessed her feelings about the past 20s and upcoming 30s.
   IU, who debuted at the age of sixteen in 2008, is now a leading female solo artist in South Korea. IU's charming voice, sensitive songwriting, and composition skills have brought her music into the spotlight. She also shows a different side of herself as an actress in dramas and movies. Playing roles from a character with a weary life to a fancy star, she is gradually expanding her spectrum as an actress.
   IU, who made her debut in her mid-teens, confessed that she felt her "20s were very long." This is why the album name and new song title are "Lilac." She added, "in the language of flowers, Lilac symbolized 'Memories of a Young Day'. It means to say bye to my 20s and make memories of my new youth in my 30s. 
   IU has been releasing songs about her age. "Twenty-three," which tells the story of her at 23, "Palette" at 25, and "Eight" at 28. "Lilac" completely captures the last 20s, 29-year-old IU. The artist gave a reason for consistently singing about her age. "I am planning to be active for a long time. I thought it would be fun to have a record of myself at those times, and fans would remember, 'Oh, that's what Ji-Eun did back then.'"
   It was a flower-like time for IU, but she also had a hard time. It took her a while to acknowledge herself.
   "In my early 20s, there was some sort of self-hatred. It was a time when I did not love myself although there were good results. The starting point for that change is 25 years old. In 'Palette,' I say that I think I know myself a little bit now. Now I am not disappointed in myself, I accept things as it is not surprising or new, I accept what I lack, and at that time, I felt that I should be close to myself."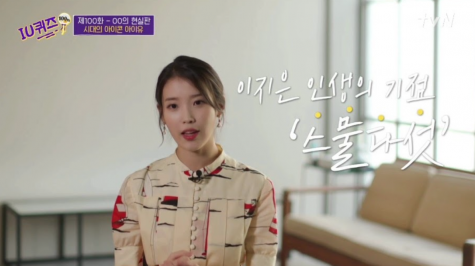 IU, who has worked breathlessly, is now an icon of the times. Looking at herself grown up, she chuckled and said, "I'm lucky. How lucky 20s is." She had a lot of troubles, but she enjoyed her 20s. IU spoke her truth, saying, "It is a really thankful life as, despite working hard, not everyone listens to my songs and gives compliments."
   IU had problems, too. Singer IU has a perfect life, but as a human, Lee-Ji-Eun is not good at anything. She added that her health has gotten worse, and promised to take care of herself and work leisurely in her upcoming 30s. 
   When asked, "In 10 years, what will IU look like at 39?", she gave an IU-like answer. "I think I will be more stubborn. I get a sense of feeling that I am getting tighter and obstinate when working. I will still be working at 39, so wouldn't I work more meticulously than now?"
   There is a story that IU often tells during her concerts. When she passes away, she wants to remain in the song "Heart". Looking at IU getting older, we all hope to grow with her songs and make memories together.