Korea Disease Control and Prevention Agency Announces Covid-19 Vaccination for 2nd Quarter
On March 16, 2021, Korea Disease Control and Prevention Agency (KCDA) put out a notice regarding the 2nd quarter Covid-19 vaccination plan. During the 1st quarter, the only candidates eligible for vaccination were health professionals. However, for the 2nd quarter, socially weak- over 65-year-olds, children, serious cases, etc., are able to receive an injection.
   According to Jung, Eun Kyoung- director of KCDA, "As vaccinations for the elderly begin in the second quarter, we will check the vaccination institutions and medical personnel, delivery of vaccines, and related guidelines again. Hence, we will contribute to giving safe vaccination for citizens."
   KCDA shared five-goal with citizens:
1) To prepare the first inoculation for a total of 12 million people in the first half of the year.
2) Protect high-risk groups with all high-risk outbreaks and illnesses.
3) Start vaccinations for elderly people aged 65 and over.
4) Strive to protect schools and care spaces from infection.
5) Expand the vaccinations of health care personnel. Also, implement the inoculation of essential human resources in society.
   The Implementation plan provided by the KCDA is classified by six; 1. convalescent hospital and sanatorium 2. residents and workers in Covid-19 vulnerable places 3. elderly people aged 65 and over 4. schools and childcare centers 5. those with chronic illnesses 6. essential human resources for health care workers and society, etc.
   Regarding categorized recipients, the following chart indicates vaccine type and injection time/method based on types of vaccine and introduction time.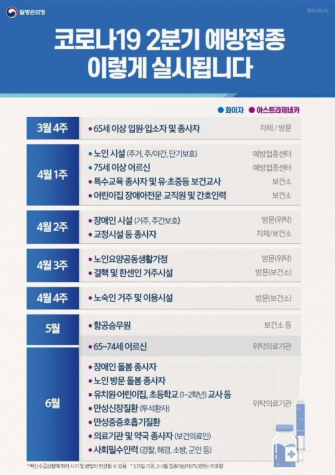 Based on vaccination results from Scotland and England, they recommend using AstraZeneca for people aged 65 and over. From this recommendation, Korea will use the AstraZeneca vaccine for this group starting from the 4th week of March. 
   From the first week of April, seniors aged 75 and over can get the corona vaccine at the vaccination center. For the convenience of vaccination, the Korea Centers for Disease Control and Prevention is going to thoroughly support the elderly. 
   The Korea Disease Control and Prevention Agency has shown the best reaction for public health during this pandemic. There are more details of what they have done on the KCDA website (http://ncv.kdca.go.kr/) 
   On September 12, 2020, Korea Centers for Disease Control and Prevention (KCDC) was promoted to KCDA. By strengthening its professionalism and independence, KCDA is focusing on responding to infectious diseases for the nation.