Women of Color in Korea Speak at UAC Diversity Forum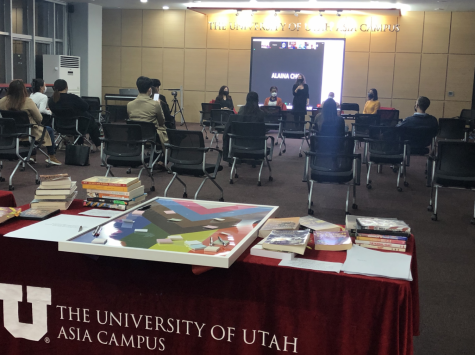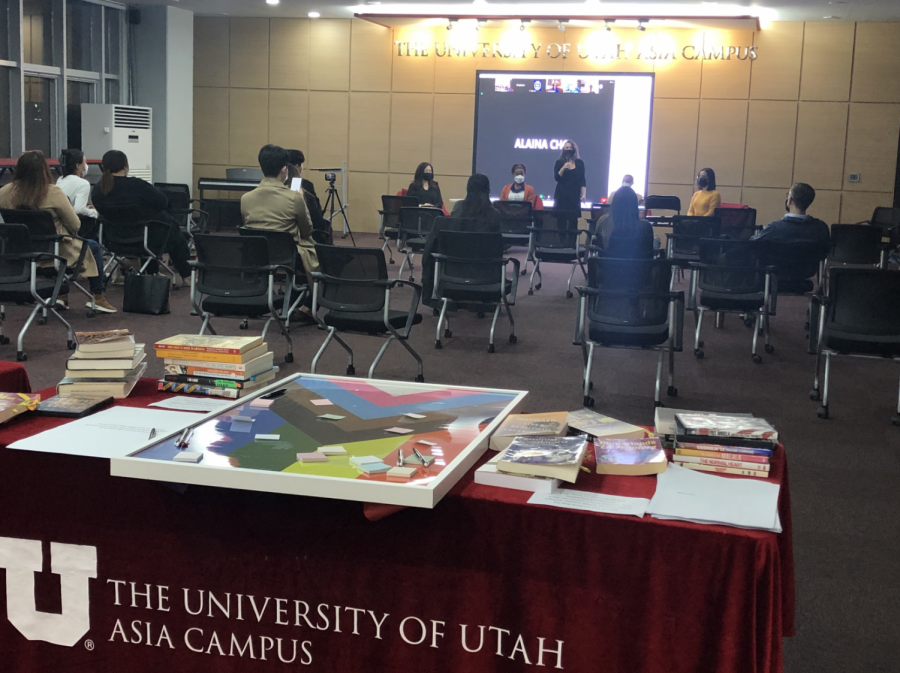 The University of Utah Asia Campus, UAC's Department of History, and the Committee for Equity, Diversity, and Inclusion presented a discussion panel on Gender, Race, and Place: Intersectional Perspectives in an arch hall at UAC in November 2020.
Four invited speakers- Mel Watkins, Iaras Belen, Annie Ham, and Erica K. Butler shared the opinions of their intersectionality as women of color. The event covered the speeches, Q&A, a book signing of Black in Asia, and a collaborative exercise with the audience.
According to Annie Ham, Korean American founder & director of the aid organization called The Songdo Giving Tree, she has been treated differently since kindergarten.
"I was born and raised in San Francisco and I grew up in a predominantly white neighborhood. I was the only Asian student in my kindergarten class and my teacher would push me aside and treat me differently," said Annie.
"Fast forward into middle school, the population is getting a little bit more diverse, but is still predominantly white," noted her. Some students told her to go back to her country and then she started to realize that this is racism.
Annie expressed her feelings at that time. "I was so confused because the United States is my country. I was born here."
Furthermore, American friends used to tell her to choose between Koreans and Korean Americans to hang out with. "It did not matter to me. I did not see the color of people's skin as much as some people did," added Annie.
Living as a Korean American was not easy for her in Korea, either. "I arrived in South Korea in 2011. Everyone looked like me, but the culture was different," argued Annie. "I am in a country where I am not Korean enough for the Koreans, and not foreign enough for the foreigners."
To continue with, Iaras Belen- Puerto Rican, and a host of the YouTube vlog series On My Way to Korea, also shared her racist experiences abroad. "Growing up in Puerto Rico, I did not face any of the discrimination. I was seen as an educated and successful leader among my peers," stated her.
"But then, I moved to Taxes and worked as a waitress to save money to come to Korea. In the United States, I realized I was not seen as an educated leader," said Iaras. Many people just assumed that she was an illegal immigrant.
Moreover, she experienced a stereotype of foreigners. "Coming to Korea, my first job was in an academy in Gyeonggi-do. On the first day, my boss said she thought I would have blonde hair, blue eyes, and tall," mentioned Iaras.
"People said I do not look like American, but Korean. The boss even asked me if I wanted to dye my hair blonde," stated her. "Therefore, I tried to change my identity into a white blonde American as Korean expected me to be."
"And that was until I started to love myself and my background with pride." Iaras finished her speech.
Yun-jin Lee, a psychology freshman at UAC joined this event as a volunteer. "While living as a Korean and colored person, I was aware of racism," stated Yun-jin.
"However, I was surprised to hear about the story of Iaras Belen in Korea. I realized that Koreans were also being racist sometimes without even knowing," said her.
Yun-jin stressed that she had a meaningful time with the four speakers. "Also, the interactive exercise that writing our thoughts about the intersectionality on post-it notes was interesting," added Yun-jin.
The discussion event was open to the UAC faculties and students for 50 attendees max and it held a live zoom session due to the Covid-19 pandemic.
Established in 2014, the University of Utah Asia Campus is in Songdo, Incheon, South Korea.
UAC consists of five undergraduate degree programs, including Communication, Film & Media Arts, Psychology, Civil & Environmental Engineering, Urban Ecology, and two graduate degree programs, including Master of Public Health and Master of Biomedical Informatics.