Songdo International City Holds a 'Saturday Gathering with Korean Youth & Expats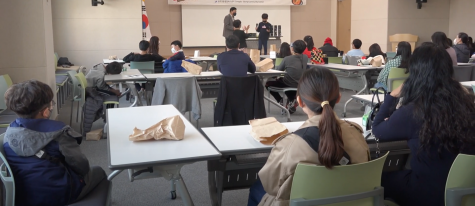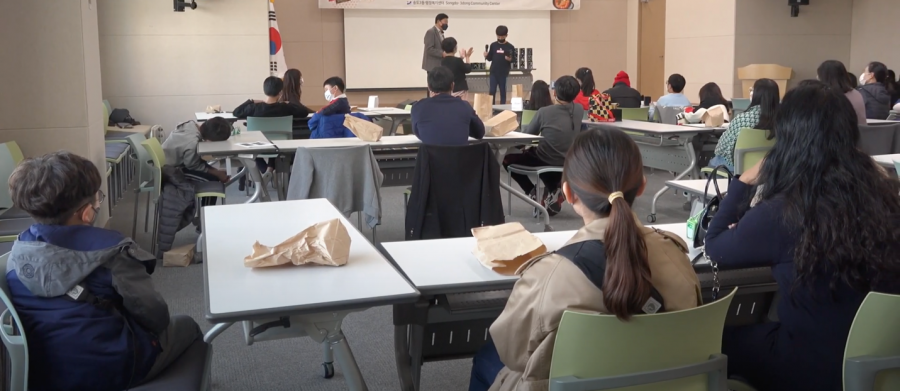 For the next five weeks, Songdo International City will hold 'Saturday Gathering with Korean Youth and Expats' from November 7th. This gathering  is to create an atmosphere for open communication among Korean teenagers and foreigners living in the area.
On the second day of this event, about 30 participants came to make a Mother-of-pearl pencil holder on their own. The participants were mainly Korean children attending elementary school and foreign adults.
Minsu Choi, an 11-year-old student who came to this event said that "I was deeply interested in foreign people and their culture. I believe this event is really a good chance for me to interact with foreign people living in Songdo."
Soyoung Kim, a 9-year-old student living in Songdo also gave positive feedback on this event. "Actually, I did not really want to come today but rather had to because of my mom. However, as I started to do these hands-on crafts materials, I genuinely enjoyed making my own pencil holder."
After making their own pencil holder, all the participants had time to introduce their own piece of artwork in front of the other people.
One of the most interesting features of this event is that all the participants were encouraged to speak English during the event. Some expressed that it was a little bit hard to use different language but was refreshing and exciting at the same time.
Yeongsun Park, a parent who brought her son to this event expressed her feelings about using English in the event. "It is a fantastic opportunity for an active cultural exchange. I am so pleased to be here and to see the children communicating with the foreign neighbors around us."
Minjoon Jung, a fifth-grade student from Sinsong elementary school noted that it was awkward and nervous to explain his pencil holder in that he thought he was a bad English speaker.
However, he confessed that he could overcome his fear of using unfamiliar language. "Now I am not afraid of using English and am planning to try harder to develop my English skills from now on."
The program finally ended up taking pictures together in the classroom and the children went back to their house with the pencil holders they made by themselves.
Overall, the majority of the participants seemed to be entertaining during the program. Some even answered that they would like to come and enjoy another event next time if they are available.
There are three more 'Saturday Gathering with Korean Youth & Expats' event programs left as of last Saturday.
The three programs are a field trip to Wolmi Traditional Park, making Korean traditional fan, and cooking Korean traditional foods.
Specifically, participants of the field trip program will experience a Korean traditional tea ceremony at Wolmi Park on 21st, November.
Additionally, participants of the fifth and the last cooking class will cook Korean traditional foods such as Gimbap and Tteokbokki on December 5th. After the cooking class, there will be a special farewell ceremony to celebrate the finale of the event.
Songdo International City is a large land reclamation site created by reclaiming the common water areas such as Dongchun in Yeonsu-gu and Nonhyeon and Gojan in Namdong-gu.
The reclamation began in 1994 to secure insufficient housing sites. On August 11, 2003, Songdo, an international city, was designated as the Incheon Free Economic Zone, a national strategy, as a way to be recognized as a business-oriented country in Northeast Asia.
As of January 1, 2007, Songdo International City was divided into two different districts on January 1, 2012, for the improvement and efficiency of administrative services by changing its population to a large-scale district with a population of more than 50,000 people.
In May 2014, Songdo International City exceeded 50,000 people and three Songdo districts were newly established and continued to these days.