Excitement and Optimism as Ghent University Korea Returns to Face-to-Face Classes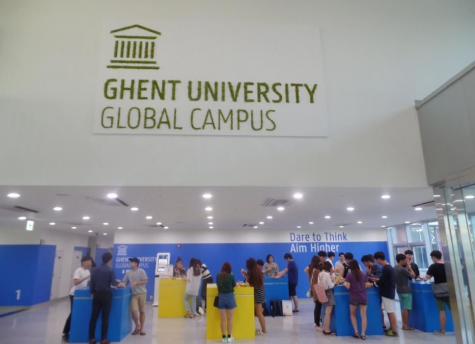 After months of online teaching and restrictions imposed by Korea's Ministry of Education, Ghent University Global Campus (GUGC)  took unprecedented steps with a partial return to in-person classes starting Monday, October 5th.
The decision arrived amidst much anticipation from students on the Incheon Global Campus (IGC) regarding their respective schools' return to in-person settings.
The GUGC community expressed mostly positive responses in support of the school's decision. Espoir Kabanga, teaching and research assistant at GUGC stated, "it is a good thing to have students back on campus… [especially] for freshmen and first year students, I believe it is important for them to have [an] on-campus experience."
As the IGC's premier technology and science institution, GUGC's decision comes as particularly good news for students and faculty who require in-person lab-work. "Students [need] to be physically in labs and try by themselves these experiments, so that they [can] understand clearly what is going on" says Kabanga.
Professor De Neve's of GUGC's Department of Environmental Technology, Food Technology and Molecular Biotechnology Center for Biotech Data Science shares this experience "for courses involving wet lab practicals […]there is only so much that you can do -in terms of skill acquisition- through remote teaching and knowledge/demonstration video clips".
While the news was received positively by most, there are still lingering concerns about a potential resurgence and second outbreak of the COVID-19 outbreak on campus due to a return to an in-person setting.
In response to these concerns, GUGC has taken extensive precautionary measures, including, "maintaining certain social distancing in labs and classrooms, [using] hand sanitizer before accessing the labs and classrooms, and… mandatory [masking]" according to Kabanga.
Overall, moving back to the in-person format seems to be executed with first-year students in mind, as community on campus is essential to academic and community success.
Professor De Neve of GUGC expresses, "everyone is looking forward to again seeing students on campus […] there is only so much that can be done online[…] especially […] for first-year students"
IGC is working in accordance with the Korean Government to ensure the safety of the campus moving forward during the pandemic. For questions or concerns about the future of life on campus, you can reach the organization at 82-32-626-0114.
Due to worldwide pandemic COVID-19, almost all universities in South Korea, including 4 colleges of Incheon Global Campus (IGC) located at Songdo, Incheon- University of Utah Asia Campus, The State University of New York Korea, George Mason University Korea, and Ghent University Global Campus moved all content-delivery interactions between faculty and students online in February 2020.
Although the Korean Centre for Disease Control said that there would be some adjustment regarding the proportion of offline and online classes when the degree of COVID-19 spread gets lower, but right after the assembly for National Liberation Day of South Korea on August 15, 2020, the number of positive cases of COVID-19 increased rapidly.
Thanks to  the efforts of Korea Centers of Disease Control and Prevention, the number of Corona confirmed cases has been on the decline. Consequently, most universities in Korea, including IGC institutions have decided to conduct in-person classes starting this October.