8 Simple Safety Precautions to Observe as Thousands of Students Return to IGC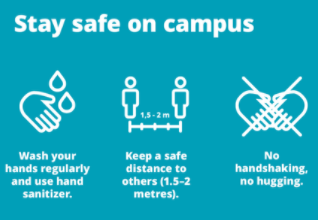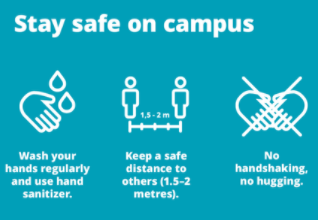 Thousands of college students are set to descend on Songdo as all four universities on Incheon Global Campus (IGC) resume in-person classes this October. According to an insider, the decision is in line with information received from the Government of Korea, Korean Centre for Disease Control, and Ministry of Education Korea.
To ensure that IGC remains coronavirus free, University of Utah Asia Campus (UAC) Chief Executive Officer- Dr. Greg Hill has provided clarity (simplified below) regarding important safety precautions to observe on campus:
All persons entering buildings on campus will be subject to a temperature check at designated point of entries.
For tracking and tracing, scan your ID badge when entering and exiting the buildings. All visitors must sign in. Anyone with a temperature greater than 37.5C will be taken to the nearest quarantine tent and the appropriate health officials notified.
All persons on campus are required to properly wear masks at all times- in public spaces, shared offices, shared utility rooms, classrooms and during classes.
Classrooms have been organized at half of the maximum capacity to maintain social distancing standards. In line with the KCDC indoor gathering guidelines, room size must determine siting capacity.
Classes have been staggered to minimize the number of people in the building at any one time. Please avoid clustering together.
All classrooms will be cleaned daily. Hand sanitizer provided.
Students are encouraged to wipe down their workspace before and after use.
All persons are strongly encouraged to observe social distancing in elevators. No more than 5 people at a time.
In an internal memo released yesterday (Oct. 8th), Dr. Hill cautioned that, "we will stay with this model throughout the remainder of the semester unless Korea sees another outbreak and it becomes clear that it is no longer safe to meet in person".
IGC is an ultra-modern, multi-campus facility in Songdo and home to four foreign universities- University of Utah Asia Campus (UAC), George Mason University Korea (GMUK), Ghent University Global Campus (GUGC) and State University of New York Korea (SUNY Korea) that incorporates Stony Brooks University and Fashion Institute of Technology.