"Expect strengthened student experience, more research opportunities, robust experiential learning at UAC"- Dr. Greg Hill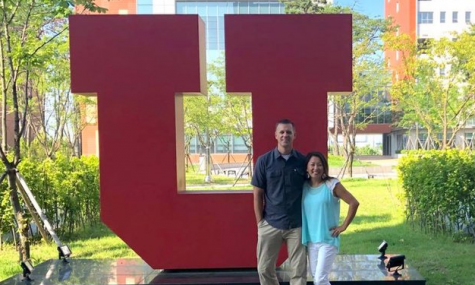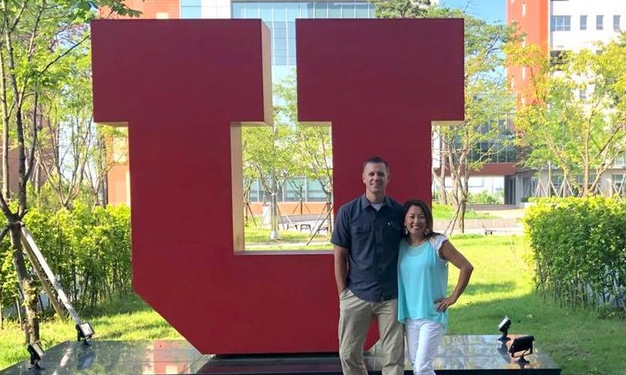 In an exclusive interview with SongdoChronicle (SC), University of Utah Asia Campus (UAC) Chief Administrative Officer/Dean of Faculty- Dr. Gregory Cash Hill stated his three-throng mission for UAC students. He said, "…expect strengthened student experience, more research opportunities, and robust experiential learning."
Responding to questions about his expectations and the reality in office after his first 60 days, Dr. Hill stated that, "COVID-19 changed a lot of things especially between the time I interviewed for this job and when I finally arrived on campus. My hope was to come and experience students on campus as they engaged in their day-to-day activities."
"My hope was to engage with students as much as is required. When I got here in summer, I knew that wasn't going to happen due to restrictions imposed by COVID-19 but I was happy with the way Korea in general and IGC/UAC in particular have dealt with the virus."
He added that, "Since resumption, I have been preoccupied with making decisions that will help students make the most of their college experience. To this end, I've been busy networking with industry partners and helping students find opportunities to make their education experiential and holistic."
He noted further that, "While not everything was under our control, we've become flexible to make things happen. I was also not aware of how our faculties will cope but in general, I've been impress by the professional way that students, staff and faculties are making the most of a not so good situation."
When asked by SC what's his vision for UAC is, he said, "expect three things really. First, expect us to strengthen students experience in a most comprehensive way. By this I mean, we hope to create a learning environment that is adaptable and for students and faculties to have the resources and opportunities for non-face-to-face learning going forward. After covid-19, we plan to get back into the classroom and continue to do in-class interaction and outdoor learning. However, before covid-19, higher education was transitioning into a sort of an online version anyway."
"At Boise State University where I worked, a lot of resources was invested in online, remote learning before covid-19. In the future, we (UAC) hope to combine interactive video class with in-person classes in order to broaden and strengthen students' experience- the kind that is expected of US higher education."
"Second, we will give students more research opportunities as part of their undergraduate education. Research experience is a vital chunk of what students should include in their portfolio. I met with executives at POSCO EMS and Songdo PMS to open up opportunities for students. One thing executives in these organizations emphasized over and over again is that if students have the experience on their CV, whether it is experience in public relations, engineering, urban ecology or communication; it will be incredibly positive on their job prospect" he noted.
"Furthermore, I plan to grow the visibility of UAC in Songdo and in Korea. I regularly meet with different stakeholders across multiple sectors in multiple settings and my main purpose is to get them to know who we (UAC) are, what we do and who you (UAC students) are. To this end, we are building working partnerships with Yeonsu-gu office, Samsung Biologics and more. UAC is becoming part of their lexicon and network. We know our best advertising is our students and your impact in the field. Your impact and engagement with research opportunities will give you an edge in Korea's competitive corporate world."
"Finally, expect increase opportunities for experiential learning". According to Dr. Hill, "Faculties are great resources to learn from and work with. This is about engaging in joint venture with faculties sometimes for credit, for resume building or for the experience to expose you with industries you might be interested in. If you can access those opportunities and leverage them; they can evolve into job openings. I therefore encourage students not to be passive- sign up for classes, take lectures, turn in assignment and do well in exams. These are important but more than these, I want you to be active in your professional development. We as faculties, we'll find a way to get these done."
His advice to UAC Student Council is to develop synergy for a cross campus student governing body. Dr. Greg Hill noted that, "The Student Body at UAC met with me a few times and they've been prepared and engaging. They not only highlight or identify potential situations they also come up with likely solutions. They are professional, matured and engaging.
He advised the student's leaders to work together. "I was in a meeting of all four presidents on IGC and one of the things that came up was some sort of a cross campus student governance in which you guys will talk about issues that affect all of you. We think that will be a powerful tool coming from students. In part, it is economy of scales to collaborate. It is unifying, at least we are all on this campus".
Before UAC, Dr. Hill was a professor at Boise State University where he taught public policy and administration for 15 years, including leading both the department and graduate programs before taking the helm as Director at Idaho Policy Institute. At the Institute, he worked closely with state administrators, policy makers and legislators as research consultant and policy adviser on community development and local government governance. He obtained his doctorate degree in politics at Texas AM University, USA.