Upcoming Pride Month in South Korea and UAC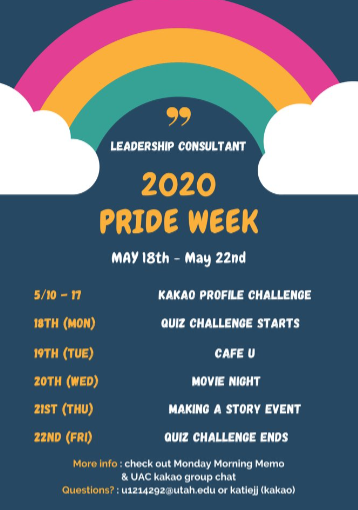 It's that time of year again, as preparations for national pride month all over the world have
begun to take place. In South Korea, pride month is in full swing from late May to early June
for two weeks. During this period the annual Seoul Queer Culture Festival is held, a
celebration for LGBTQ+ rights and advocation for equality in South Korea.
The first festival took place in the year 2000 with a small number of only 50 attendants. It
was initially met with a strong disapproval from the conservative South Korean public at the
time along with external hate from onlookers who displayed acts of physical and verbal
violence towards the attendants.
Since then, the festival has grown both in numbers and in strength, successfully finishing
their 20 anniversary of the parade last year in 2019 under the slogan "The 20 Fight for
Rights".
This particular festival proved to be a major milestone to the South Korean LGBTQ+
community, marking the first queer festival ever to be permitted to host their event within
city limits by the Seoul Metropolitan police agency.
While this festival has taken place from late May to early June for the past 20 years without
fail, this year's queer parade has been met with the unfortunate circumstances of COVID-19.
In a notice released by the Seoul Queer Culture Festival Organizing Committee in early
April, the committee decided to postpone this year's festival to the end of August or
September.
The committee also added, "We sincerely hope for the end of the current COVID-19
epidemic, and we, the Seoul Queer Culture Festival Organizing Committee will monitor the
situation and the guidelines from health authorities, prioritizing the participants' safety."
While the recent relapse of COVID-19 in South Korea has resulted in the unfortunate
cancellation of many queer month related events, The University of Utah Asia Campus
(UAC) continues to show its support and celebration for its upcoming pride week online.
During every spring semester, UAC hosts pride week to educate incoming students, faculty,
and staff on LGBTQ+ culture and rights. This year is no different, as the originally planned
events have modified themselves for this year's online setting.
To start pride week off, UAC leadership consultants have created an event called the
"Kakao Profile Challenge", lasting from May 11 to 17. This challenge asks the students of
UAC to change their profile to a picture of a rainbow with the UAC logo, in honor of the
LGBTQ+ community.
Many more pride week events are in store, starting from May 18 and ending on May 22.
Leadership consultants have planned a jam-packed week of pride related events such as a
quiz challenge, a café U hangout, a pride-themed movie night, and a "make your own story"
event.