A UAC Freshman's Struggle During COVID- 19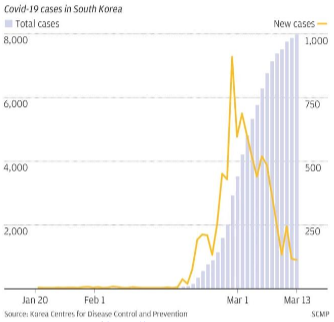 When March rolls around and spring nears, students all around the country are usually getting
ready to head back to school for another jam-packed year. However, this year, that doesn't
seem to be the case as South Korea decided for the first time in history to postpone the
beginning of classes to April 6, due to the world pandemic known as COVID-19.
Over the past few months, COVID-19 has grown at an exponential rate, now infecting at least
140 countries worldwide. Recently in South Korea, the numbers of confirmed cases have
begun to rapidly decrease to an average of 70 cases per day. However, caution still runs high
as online classes and postponement of the semester continue to take place.
At the University of Utah Asia Campus, students and faculty have been cooperating endlessly
to adjust to the sudden circumstances. Amongst the crowd of students having to deal with this
dilemma, freshman students are struggling particularly as they experience their first college
semester online.
The first month at UAC is normally lined up with social activities, joining clubs, and plenty
of opportunities to help its students kick their first college experience into high gear.
Unfortunately, many activities have been cancelled due to COVID-19.
Freshman students are having to juggle their first semester in college, which in itself can be a
challenge. Many freshmen have expressed their sorrow and the difficulties that follow for
having to start their college experience on such a sour note.
"I was really looking forward to making new friends and getting comfortably settled in
during March, but now that it's been pushed back till April, I'm worried about how I'll adjust
in the shorter length of time we have. The amount of homework without friends or club time
to balance it all out has also been very stressful so far," says UAC freshman Rachel Yoon.
"Well, one of my biggest disappointments is not being able to take that group picture in front
of the huge red U with the freshman class, something I was really looking forward to. Also,
as someone who has been living in the dorms for over a month now, not being able to access
a lot of places on campus such as the library because of the student ID delay has been
difficult," says a UAC freshman who remains anonymous.
The student added, "Cutting off most of the exits and entrances on campus has also made the
feeling of isolation worse. Education-wise, while online classes are necessary given the
situation, I can't help but feel as if there isn't an effective amount of communication during
class that would help me understand the context more fully. And finally, as a freshman, not
knowing a lot of people on campus and not being able to form those connections within the
school because of the isolation has been tough."
The recent decline of COVID-19 cases in South Korea shows promising hope that the school
year will hopefully be up and running by April 6 as announced on March 3 by the Dean of
Students Randy McCrillis.
Until then, UAC continues to make the best of the situation. Faculty continue to open their
doors to struggling students. Various small group programs for on-campus students are still
taking place, such as movie night, writing centers and a Social Media Contest about fighting
COVID-19.