Online Tutoring at the Writing Center: Pushing the Envelope to Overcome Coronavirus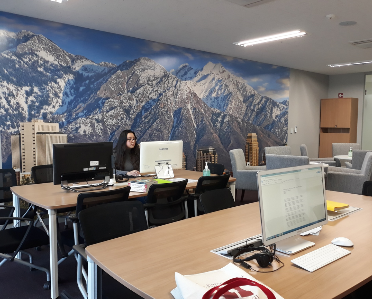 The University of Utah Asia Campus' Writing Center faced limitations with face to face tutoring due to the Coronavirus. Despite the pandemic, the Writing Center had managed to offer an alternative for students who are not available to come to school.
Starting on March 9, tutors at the Writing Center were educated on how to access online tutoring sessions in order to allow other students to meet their tutors from their rooms. The online sessions have invigorated some students' passion for writing, but a majority of students do not yet know the existence of the online tutoring.
According to Seyun Park, a student at the UAC complimented the prompt response of the Writing Center. She commented about how online tutoring sessions can increase students' usage of the WC and emphasized the convenience and accessibility. However, the online session is also facing technical problems and weakening in students' awareness.
Valentine Breitbarth, a writing tutor, experienced a no-show during her online writing session and felt isolated with no response from her patron, fearing that online tutoring might have weakened students' responsibility for showing up.
The way to request the online tutoring session is not much different compared to the original method. Students will notice that the pop-up for creating a new appointment has slightly changed, allowing them to choose between online and face-to-face meetings.
The Writing Center is figuring out ways to prevent similar problems from happening. This semester, the WC is making an effort to promote the diverse services to freshmen and new faculty. The WC is planning to collaborate with the film and media students for an advertising video, hold a contest for the WC logo, advertise with fortune cookies, design the WC web page, create a garden at the WC and much more.