Written by Won-Ji Kim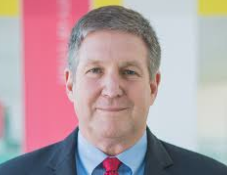 In an exclusive interview with the current Chief Administrative Officer, Utah Asia Campus – Dr. Todd Kent, at his executive office on the 8th floor, UAC building, Dr. Kent reveals important life lessons on making the most of your college and life experience.
Dr. Kent responded to questions on what to experience in college, the best memory from his college days, first thing to do after graduation, and many more inspiring tips. He focused on the five critical elements for a satisfying life.
Responding to questions about his college experience, Dr Kent advised UAC students to make the most of their time on campus and worry less on grades.
He said, "When I was an undergraduate student at the Utah State University in the US, I worried too much about grades to the point that it affected me in different ways." Dr. Kent had excellent grades, but he wishes that he had more active communication with people.
He also advised that "in your first job, people do not worry about your grades too much." Therefore, he firmly advised students to not get stressed with grades but develop themselves by meeting new people.
Dr. Kent is grateful how he met his wife and made great friends in his college days. He described life is all about "people." He advised students to take advantage of opportunities that can make you to build relationship with new people. For example, actively participating group projects in class, meeting new people in campus events, and having fun memories together.
Dr. Kent still meets his friends from college. He loves the memories he built with his friends. The critical life lesson we can gain from Dr. Kent's experience is to meet people and create good memories with them. The world goes around by people. "Whom we meet now can have a significant impact on our lives."
For the third life lesson, Dr. Kent focused on explaining successful mindset that students should have after college. Dr. Kent emphasized the happiness of having freedom. The mindset you need to have after college is "Start broad and think wide."
Dr. Kent suggested to enjoy the freedom of when you are free by your alone, no families to worry about. You should go for what you wanted in your life, "go to New York or LA, wherever you dreamed for." The essence of his advice is to challenge yourself when you are alone and develop your life.  Do not give up your dreams!
Dr. Kent went to Qatar for his job when his kids were young. His family lived in Qatar for seven years. At first, Dr. Kent's wife did not understand his decision on moving to Qatar, but his family had excellent experience there. His kids learned new languages, and they all became global and successful. He also mentioned that "you never know what is going to happen in your life." Therefore, be adventurous. Go for your dream. "Do not be afraid to take risks."
Next, Dr. Kent discussed the importance of a master's degree. He said that a "master's degree is not necessarily important. Most people in developed countries have an undergraduate degree." However, he recommends master's degree.
Also, Dr. Kent pointed out to develop skills beyond your potential. Believe in yourself and experience all the things you can do. Experience is crucial to improving ourselves. Through the experiences, we can meet new people, feel and see new things.
Lastly, Dr. Kent revealed his personal faith to share final advice for college students. "Be flexible and take risks." As he mentioned earlier, "we do not know what is going to happen in life." He changed his job 6 times. Therefore, do not be afraid of changes but maintain your faith.
Dr. Kent's biggest faith is his family and friends. "Keep your family and friends in your heart." He strongly emphasized to maintain good relationships with your family and friends because they are the ones who will be on your side forever.
Dr. Kent received his BS in Accounting from Utah State University and his Ph.D. in Political Science from Texas A&M University. He formerly served as the Assistant Dean for Academic Affairs and member of the political science faculty at Texas A&M University at Qatar.
Currently, he is the Chief Administrative Officer of Utah Asia Campus in South Korea. Dr. Kent is having an excellent time in Korea with his wife. He loves UAC students and working hard to build a better environment for all UAC students.