Autumn Picnic Festival at Triple Street Shopping Mall
By Hyunwoo (Henry) Lee & Nathan Park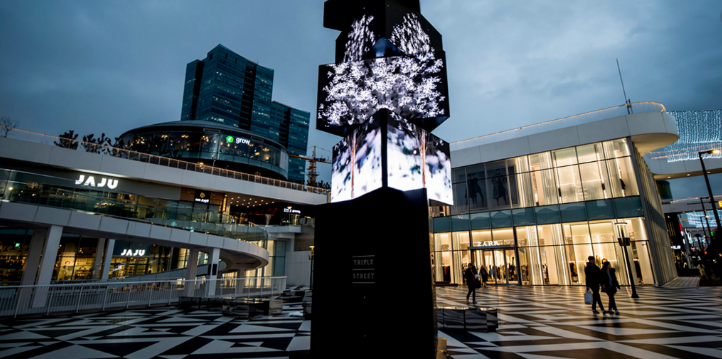 Triple Street, with the introduction of the autumn season, has announced a special event in Songdo, Incheon, South Korea. Known as The Autumn Picnic, the event officially launched this week and will last until the beginning of the winter season.
Independent shopkeepers have teamed up to fill the streets with various hand-made trinkets and delicacies, and major retailers have begun offering various discounts for their products.In addition, as upcoming musical artists have been providing live busking performances, the venue has become a social hotspot for families and students from around the Songdo area.
This bustling atmosphere is not unfamiliar to the establishment, as Triple Street has hosted similar events in the past."I didn't know that Triple Street was hosting this kind of event since I normally go home for the weekends!" mentioned a student from the Incheon Global Campus. "I typically wouldn't bother coming out with how cold the weather has been, but lately it seems as if there's too much going on to miss!"
The shopping center's new flags can be found across the outdoor area.
However, despite the festive atmosphere, the event does not primarily aim to celebrate the shopping center's activity; rather, these retailers have been trying to push for more foot traffic attract customers, massive crowds on the weekends have stifled pathways, and visitors have found it difficult to enjoy the event.
Due to these circumstances, the Autumn Picnic attempts to resolve this matter by extending the event to occur during the weekdays, in addition to the concurrently-running weekend activities.
These actions have resulted in a wider distribution of traffic spread throughout the week."It is so nice to finally have some room in the streets!" stated one father of a family. Now my kids can enjoy the event and not worry about bumping into people."
Unfortunately, while customers have praised Triple Street's decision to provide festivities through the week, independent shopkeepers did not seem so keen on the idea.
"Normally, we [independent shopkeepers] can focus on weekend sales, when traffic is the highest." mentioned one shop owner. "But since this event, we've had to come out more often, and haven't been able to do business as much elsewhere."
In addition to some shopkeepers, university students from the area have voiced their concerns regarding the increase in population as well. "I usually study at a cafe because the quiet atmosphere helps me focus. Now, there are too many families and kids, and I can't focus as much." stated one student.
Not too long ago, Songdo was fairly underpopulated. Known by some as a 'ghost town', the city faced trouble attracting potential residents to purchase housing within the city.
Recently, many new incoming businesses have hosted their own creative events to attract people into the city. These actions have helped kick-start investments and expenditures within what was once a seemingly all-but-dead neighbourhood.