By Mike Park
Civil Engineering, the newest addition to the University of Utah Asia Campus' curriculum, is taking off at an unprecedented rate. The major, which began in 1903 on the Salt Lake City campus, was brought to the UAC this spring semester, with upwards of 20 students already enrolled to take it as their major.
The transition from Salt Lake City to Incheon was led by Dr. Steven Bartlett, PhD., who came to Korea in 2016 and had been planning to begin the program for the past three years.
In an interview with Dr. Bartlett, he described in detail what exactly the major of Civil Engineering is: a branch of engineering dedicated to public infrastructure and design, focusing specifically on smart and sustainable communities. "Everything around us is designed by civil engineers" says Dr. Bartlett, explaining further how the very basic things in our lives – transportation, energy, power, buildings, clean water and even clean air – are meticulously studied and improved on day by day, by civil engineers.
Therefore, the importance of civil engineering is at an historic high in our rapidly developing modern society (with an annual professional growth rate of 11%), especially in a globally renowned smart city such as Songdo.
So how do our students fit into the big picture of an engineering field that encompasses such a large portion of our lives? Dr. Bartlett already has a plan.
At the UAC, incoming freshmen and sophomores will focus specifically on the fundamentals of science, statistics and the utilization of Computer Aided Design (CAD) in order to build a solid foundation for later studies. In their junior and senior years, students will study the full breadth of engineering and even conduct research on the Salt Lake City Campus.
The curriculum will focus mostly on the engineering and improvement of infrastructure and smart cities, made possible by Songdo's incredibly innovative design – including automated traffic and waste control, integration of parks and recreation into the urban landscape, and energy efficient buildings. Students will learn practically in the classrooms, labs, and even in the real world where they can gain invaluable experiences and connections with global businesses such as POSCO (who have a branch in Songdo) who are eager to hire skilled, English-speaking students.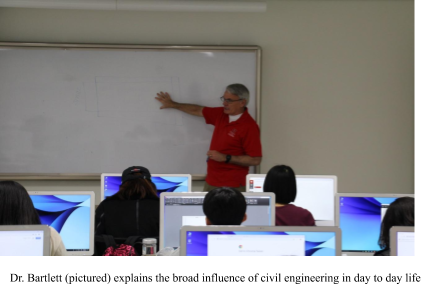 Dr. Bartlett is optimistic in increasing the program twice fold by the spring of 2020, and to keep on expanding in the future. He plans to integrate research programs conducted at the Salt Lake City campus into the curriculum at the UAC, and to allow many undergraduate students to be involved in them as well.
He is also looking forward to providing Civil Engineering students with internship opportunities around Songdo which will be a massive help to them when starting their careers in the field. Dr. Bartlett hopes that his program will offer a prestigious, Western standard of education for many students to come, and in doing so, prepare them to be pioneering social and global leaders.