A forum on fine dust was held at the University of Utah Asia Campus (UAC) in U306 at 5:00 on May 31st, 2018. This forum was facilitated by Dong-Young Mok, Lacey Kim and Mitch Shin who took lectures in Human Ecology. The facilitators deemed it fit to organize this event in order to share their research findings on Fine Dust with fellow students, staff and faculties.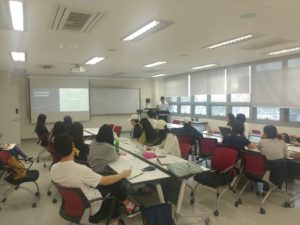 The forum was attended by Professor Kathrine Cagat (Anthropology), Professor Jatula Victor (Communication), and Professor Kim (Music) of the UAC. Many other UAC students were in attendance. Also in attendance was Professor Jason Morris (Global Affairs) from George Mason University Korea along with at least, 15 students of the same institution. Mitch, Lacey and Dong-Young focused on the causes and solutions of Fine Dust in South Korea. Participants at the forum had mixed reactions, especially on who is responsible for this social issue- China or Korea. One participant suggested that it would be hard for China to take responsibility for Fine Dust problems in Korea, arguing that it is a Korean problem that requires a Korean solution.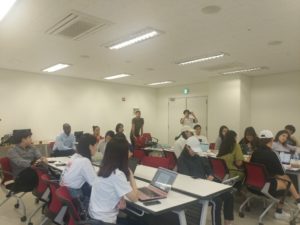 In preparation for this forum, the facilitators interviewed Dr. Jason Morris of George Mason University on the causes and solutions of micro dust I Korea. He explored the possibility of finding solutions through political and diplomatic approaches rather than an environmental approach. Professor Jason Morris mentioned domestic problems as the cause of Fine Dust and talked about people's eating habits and behavior.
He commented on the case of meat that Koreans eat and suggested that fine dust may be generated due to the smoke that occurs when meat is baked. He also added that people need to improve their behavior and lifestyle in order to solve the problem. He suggested the habit of using public transportation rather than driving personal cars always. It was his opinion that some regulation by the Korean government would be needed to influence people's behavior. He said further that Moon Jae-In's administration needs to do more to address the situation. He also encouraged the Korean government to work-out some bilateral agreement with China on this issue.
Participants and facilitators of the forum agreed that Fine Dust can be solved by investing in long term projects. It was suggested that there should be political and economic co-operation between Korean and its neighbors on this issue. With negotiation and compromise, a solution is possible. Government should respect the lives of the people as much as possible and establish solutions, and the citizens should take the inconvenience and improve the behavior to solve the fine dust. The problem of fine dust cannot be solved if the people cannot fix the behavior of the people who generate fine dust by themselves. Korea cannot turn fine dust into Chinese responsibility forever. 'Not in My backyard'. Everyone should have heard it once. You should not give yourself an indulgence to solve a fine dust problem.
Written by Mitch Shin