On May 3, the candidates ' speeches were held at Zion hall at 5 p.m. Each of the candidates spoke based on their major pledges, which took about an hour. The conference consisted of five stages and was hosted by Douglas and Bella Im. The main focus of the speech was awareness of the problems of each candidate regarding communication, and each candidate suggested measures to resolve insufficient communication between the student council and students.
The candidate for the student council president and vice president of the student association came to the polls as a team, and a total of three teams offered a challenge in the student council election. I met each of the candidates individually on May 4 and 9 for an interview. The interview, which took an average of 40 minutes, summed up three key questions as keywords for candidates.
1) lacking of past student council and solution
Jimmy Cho and Yunjung Shin: The last student council lacked communication with the students. We tried to communicate with students through SNS, but we think the gap between student association and students was wide. We will change the way student councils communicate. You can see posters related to school events in the school restrooms and elevators. Rather than using SNS more, we want to communicate in this way.
Alaina Choi and Leehye Kang: There was a lack of communication with students. Students ' lack of freedom of expression was due to their inability to secure confidentiality in their opinions. Therefore, we use SNS such as open KAKAO Talk to improve communication with students who lacked it.
Jeong Hyun Kim and Youngjoo Cho: Our team does think that that past student council had done a decent job, regarding their successful negotiation with the textbook fees the provision of the additional printer. However, we strongly believe that we can do better by providing additional improvements on top of their dedications.
2) Commitment
Jimmy Cho and Yunjung Shin:
There are four significant pledges. As the platform said, we will consult with the school to build facilities for students. For example, it will create locker rooms for students going to school and expand club rooms for clubs. Besides, we have mapped out specific plans for the convenience of students and have also prepared specific plans to achieve them.
Alaina Choi and Leehye Kang:
Major pledges are the '3C strategy.' Our main commitment is a strategy comprised of Communication, connection, and connection.
We want to help students have a sustainable exchange with the community and other universities. So far, there have been many single-shot exchanges. Therefore, students could not communicate with other students or people. Also, there is a gap between Korean and foreign-educated students. We want to narrow this gap and create an environment where communication between students can be diverse. We also want to create off campus volunteer opportunities and better the facilities (such as more CCTVs and housing washing machines)
Jeong Hyun Kim and Youngjoo Cho:
Designated printing center or IT Center
-we are going to investigate and adapt the effective models from other institutions.
-collect ideas from the students to determine the demands
Assured Textbook buyback programs
-We will create formal proposal to persuade the Dean of Students to adapt this program. In fact, there are numerous universities currently running this program.
-Typical buyback programs in the US normally accept buyback even if the curriculum no longer exists.
Provide more study environment options to suit the student's preferences
-we are well aware that the study preferences differ from individuals.
-On top of study lounge (U-205), we are planning to transform the current student lounge to be more accommodating to the students who wish to study in a café style environment.
3) The reason for being elected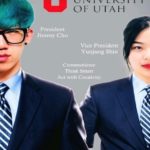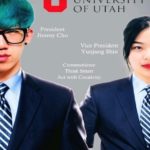 Jimmy Cho and Yunjung Shin:
The reason why we should win this election is that we have a sense of urgency and passion. There is a passion for resolving the lack of communication in the student council. And we have the desire to accomplish the detailed plan for the convenience of students. We are not just saying that we will communicate and be good at it in an abstract way. There is a specific plan, and we are confident that it will be achieved. Compared to other candidates, we are not responsible for the lack of communication in the last student council, and we are better prepared.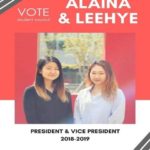 Alaina Choi and Leehye Kang:
The reason why we should win this election is that we have experience working as a student council member. We know specifically what to do as president of the student council and vice president of the student council. That's because we've been working on it as a member of the student council. Therefore, we are confident that we can constantly communicate with students. Finally, if we are elected, we have more authority to play than we have ever done. We want to create a student council for students through this authority.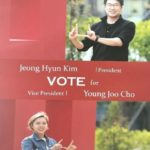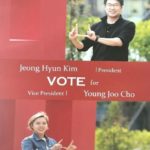 Jeong Hyun Kim and Youngjoo Cho:
We believe we will be a great addition to student council diversity. Currently, we have multiple social roles. I am a 34-year-old (U.S. age counting method, born in 1983) full-time student, husband, father and these diverse roles force me to process the mature perspective views and always be meticulous about the decisions (Jeong Hyun Kim). We want voters to the knowledge that our experiences are not strictly limited to academic environments. During my gap years, we acquired numerous life experience in a non-academic situation which we believe these characteristics can be advantageous to providing wiser representation. We plan to serve the term with the professional attitude that will reward the UAC with the obtrusive improvements. On top of that, we are passionate about our vision to provide the pleasant educational atmosphere and ready to strive myself to be a better contributing member of the student body.  
The turnout in the last election was lower than 60 percent, attention is focusing on how much the turnout will be recorded. The voting results will be made public through Facebook and school e-mails. Students have to vote several times because of the runoff system. If a candidate with the highest number of votes in the first election did not exceed the majority, he or she must start the second election. In other words, if a candidate with the highest voter turnout does not get more than 50 percent of the vote, the election will be split as a result of the second election vote.
Who will lead the new student council for a year? Attention is focusing on the outcome of the poll.
* Presentations can be viewed on the school Facebook site and their platforms can be viewed through e-mails from Douglas.
Written by Mitch Shin