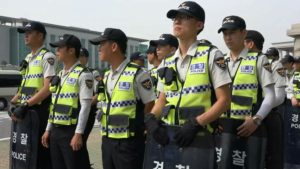 In the 'DRUKING' case, lawmakers are not currently working. It is because the rivalry between ruling party and the opposition party is continuing. First of all, I will briefly explain the case of 'Drunk King.' In the last election, NAVER, the main portal site of Korea at the time of the presidential election, the economic organization to which the person is having the ID 'DRUKING' belongs, And public opinion formation.
There is the fact that a person with an ID of 'DRUKING' has met a private person with many politicians, and the fact that Kim Kyung-Su, Democratic Party candidate for the governor of Gyeongnam province, introduced the acquaintance at the Embassy of the Republic of Korea in Japan. However, Cheong Wa Dae did not appoint the acquaintance he introduced to the Embassy of Japan. And Kim Kyung-Su, the Democratic Party candidate for the governor of Gyeongnam province, said that it is not a big problem because anyone can recommend the personnel.
The first opposition party should make a special investigation on the 'DRUKING' case, and the party leader has fasted nine days. Besides, the 'DRUKING' case is put on a frame of disagreeing with the presidential election, and an attempt is made to include the presidential candidate in the investigation. Many people are not convinced by the first opposition party 's claim that it will investigate the president for more than 80 percent of the vote. Rather, the public views this frame of the first opposition party as a strategy for attempting conservative mobilization ahead of local elections on June 13.
The essence of this case is that there is no law to penalize the 'DRUKING' who manipulated comments and formed the public opinion using various identities. Also, concerning the recent controversial NAVER article layout manipulation, Korea is now an easy-to-operate environment for people to manipulate public opinion on major portal sites. It was also revealed that the group that tried to manipulate the public opinion by using macro technology was a group that enthusiastically supported former President Park Geun-Hye and a group that is     aiming for patriotic remuneration.
Recently, the police summoned the 'DRUKING' and conducted the investigation. Regarding this issue, police and prosecutor should investigate all the groups that have attempted to manipulate comments to form public opinion, using Macro technology, regardless of whether they are. And NAVER has to make sure policy as the most influential company to prevent these attempts and provide information to the people. Finally, the first opposition party lawmakers who have not passed the public welfare bill and the supplementary budget for the people are hoping to return to the National Assembly soon.
Written by Mitch Shin